Worth the Wait for Andrea Willis Designs!
Posted on
Welcome to my website and my very first Andrea Willis Design blog … the website only took a decade … the blog has taken me a lot less time!
So maybe a drumroll of sorts is needed …
I would really like to thank my wonderful customers for being so patient with the building of my website. As you know I have my shop in Hanover Road, Scarborough. It can be a busy place and I love to see 'the regulars' and new faces too.
I do hope that folks enter the shop as customers and leave as friends.
And for those of you that prefer the face-to-face contact, fear not as this will continue, although it might be more accurate to say 'facemask-to-facemask, socially distanced contact'!
Having a shop is very important to me and keeping it stocked with Andrea Willis Designs is a joy and a privilege. However, we must move with the times and a website has been a key project for me in 2020.
This year more than any I've realised how for some customers it is difficult to get out and about. Some of us might be cautious about shopping in the town centre and the website offers the opportunity for people to shop online for their special gifts.
And you know when you purchase an Andrea Willis Design, it's been made with love, a sprinkling of quirkiness and of course, good old pen and paper. All gifts can be personalised too, which means that a handwriting hug has gone into that card or gift.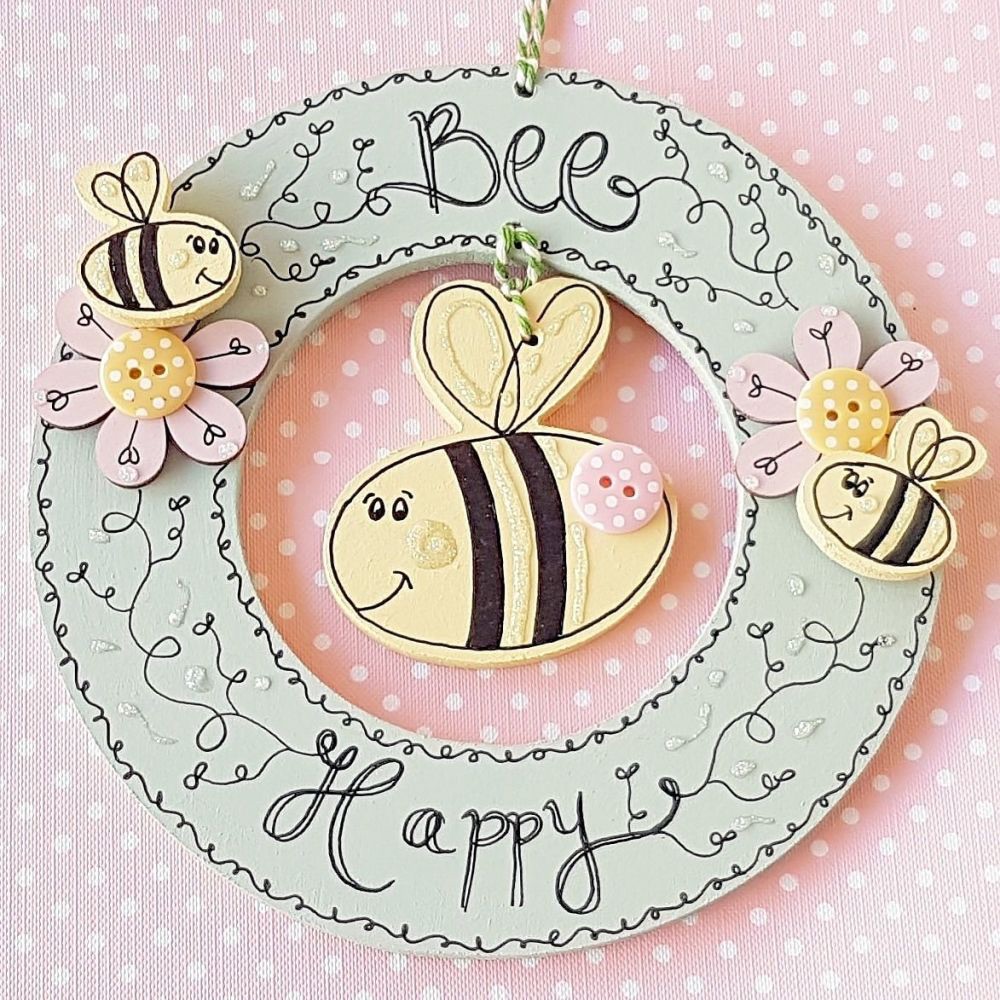 Throw in some colourful buttons, sparkly glitter, a dotty collection of polka dots, a toadstool, a buzzy bumble bee, a fairy, a rainbow … these are just some of the materials and motifs I use regularly in my work.
The cards and other designs you see on the website and in my shop have other inspirations, though.
Cast your mind back to your favourite children's books.
One of my favourites is 'Paddington Bear'.
I love the cuddly bear from Darkest Peru with his duffel coat, floppy hat and who has a penchant for delicious marmalade sandwiches. The original books penned by Michael Bond and illustrated by Peggy Fortnum among others first appeared in the late 1950s and I adored the illustrations, particularly the backdrops. These illustrations have inspired me throughout my career, and it is my hope that anyone buying a card or similar might notice that I have a certain style and quirkiness.
And it is no secret that I love toadstools, the ones with bright scarlet caps and white spots ... you never know, you might find a fairy or elf having a nap underneath!
Talking of fairies, if you ever look on the back of one of my designs, you will see my logo.
I call it 'my fairy' as she's been with me since the very beginning. She has a full range of style, outfits and colours, and she appears on the back of all my cards. She began as a doodle more years ago than I care to count, and that's when Andrea Willis Designs was 'born'.
So as well using the fairy motif in many of my designs, I also have some firm customer favourites and best sellers in the shop and it's these items that have been placed on the website.
My best sellers include my annual calendar, anniversary cards, thank you cards, keepsake gifts, scrapbooks, and wedding items.
In fact, for most life celebrations and occasions, there will be card you can purchase for it – and don't forget I can personalise them with a name and message and I can post them out to the recipient, both important, unique selling points you just don't get with mass produced cards.
And with the cards now available on my website, it is important to remember that all my designs are created with pen and ink … there's no digitisation involved as that's is really not my style.
Pen and ink absorb the creative process, too. The act of picking up a pen and finding a piece of card or paper signals the start of the illustration 'moment' and is the end of an inspirational thought or image that's been in my mind.
I am a pen and ink designer, which can make the creative process quite 'drawn out' if you pardon the pun.
The beauty of using pen and ink is that every time you use them, there can be a different outcome. The paper might have a different texture or finish that alters how my design looks.
The flow of the ink from the pen is a fluid continuous process and can be very absorbing.
I'll be honest and say I don't get enough design time. Like many of us, I work, have a family and other commitments. Design time is precious and sometimes it is triggered by a humblest thing. I keep a pen and paper with me always in case inspiration strikes!
And one of the most important, inspirational elements I feel we have is our friendships. We tend to find certain friendships stand the test of time; some might fall by the wayside.
Those friendships which are special allow us to pick up where we left off; sense when someone needs alone time and when someone needs support; and maybe give honest replies that can sometimes be difficult to impart.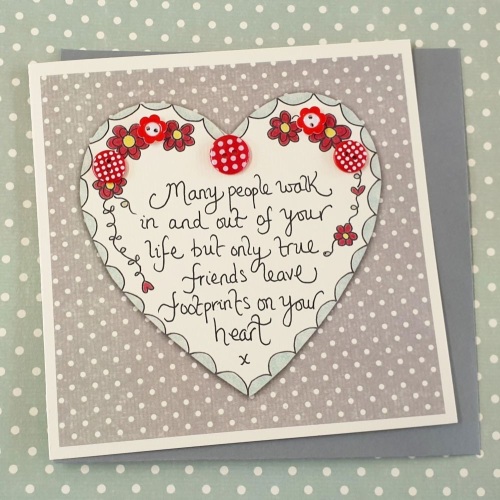 Both pen and paper are my friends and I have a very intimate relationship with each of them! And for my customers, the use of pen and ink is something which is of great importance to them.
It was only recently that I began to use a little bit of modern technology in terms of some of my most popular cards.
From March 2019 some of my work has been outsourced to an independent printer helping me keep up with demand. This decision was carefully researched and thought out so there was no loss of quality or appeal in the finished card. It also meant I had more time to dedicate to the creative process, coming up with new ideas and products to help celebrate the wonderful lives we lead.
So, you can imagine me at the desk, a bunch of sharpened pencils at the ready, a fresh sheet of paper all pristine and inviting the touch of the pencil lead or the pen nib! I particularly love a new red pen, too. I might be something to do with the love of toadstool scarlet …
The idea of a bunch of sharpened pencils has always appealed to me since watching the film 'You've Got Mail' with Tom Hanks and Meg Ryan.
Yes, it's romantic escapism, but it does have a lot of layers to it. The independent bookshop taking on the might of the huge bookstore chain; the demise of another independent business; and the budding romance between the two main characters. What's not to like?
The film is based on a 1940s classic, 'The Shop Around the Corner' starring Margaret Sullivan and James Stewart. Some stories simply stand the test of time.
And there are some similarities with Andrea Willis Designs … the independent business … the love of the craft … and yes there is a touch of romance with cards for different life events such as engagements, anniversaries and weddings.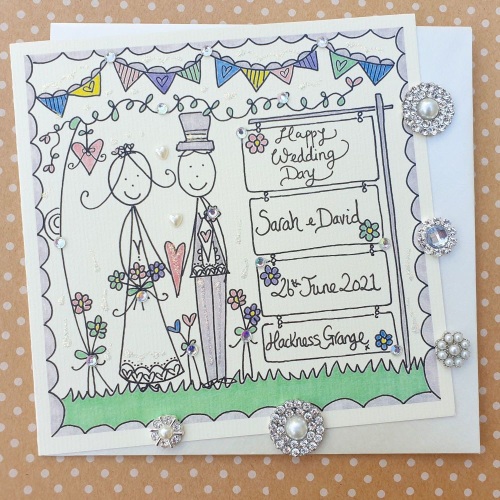 There is an important element which I haven't yet mentioned in this blog. The seaside. How can anyone live by the sea and not be moved by it?
The everchanging skies and sea; the ripples in the sand; seashells on the seashore! I love living near the coast; hearing the waves and tasting the salty sea air can be all I need to pep me up for the day.
And of course, I wouldn't be anywhere without my wonderful customers and my stockists. Without you, I wouldn't have a business. Without customers, my designs would remain as doodles, so it goes without saying I thank each and every one of you from the bottom of my heart.
I hope you've enjoyed reading this blog, visiting the new website and calling into the shop if you can.
Until next time …