Creative Times for Andrea Willis Designs
Posted on
The inside and the outside
There is a saying "Who looks outside, dreams; who looks inside, awakes."
With my shop in Hanover Road, this is definitely the case!
I love my shop here in Scarborough.
I am close to the railway station and I am tucked away behind the iconic Stephen Joseph Theatre.
The front of my shop has had a few changes over the years!
Different colour schemes, window displays and of course lots and lots of different designs inside the shop to help celebrate and commemorate.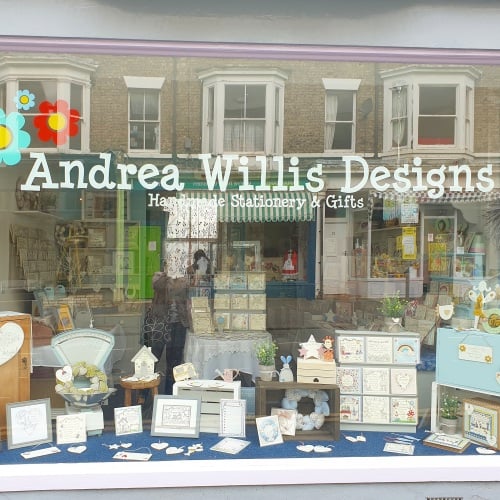 Lockdown experience
The year 2020 will be a year that we'll want to forget and yet it will be one we'll always remember.
Who can shut out the memories of the lockdown experience and that incredible spring weather we had in March and April?
Day after day of glorious sunshine.
The lockdown time gave me chance to focus on my shop, which of course was closed to the public.
It really needed a facelift and was gasping for a repaint.
And I am a person that doesn't really need much of prompt to get in some colour charts for inspiration!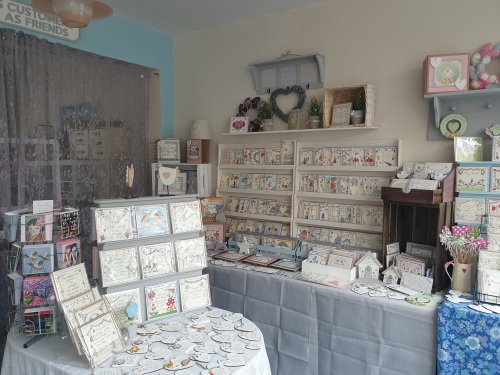 Choosing the colour scheme
As we were living in stressful times, the colour palette of lilac and grey seemed to soothe and offer a peaceful welcome to customers at the same time.
Therefore, the colour scheme was selected quite easily this time around.
The outside was painted around the large display window I'm very fortunate to have.
And of course, whenever you do a paint job, everything else then looks like it also needs a lick of paint too.
Then I was on a mission.
Every piece of furniture that was movable was painted. And I mean everything!
You see, usually this wouldn't happen, as I wouldn't be able to shut the shop for long enough. So, I took the opportunity, albeit one that arose in exceptional times, to grab those brushes, pick up those paint pots and put some TLC into my shop.
Tidying the work area
The creative hub of Andrea Willis Designs is mainly in the shop, although some work is also done at home, too.
The work area is always a busy place … a scattering of buttons, glitter, card, pens, more card, glue, more glitter … so I also tidied this up during lockdown.
A creative area will not stay tidy for long, though! As the creative process begins, the creative hub becomes a creative mess that seems to evolve around whatever task I have to do!
The diaphanous curtain between shop space and creative space was also in place (we have a screen now too) and once we could open again, we also put in a one-way system around the central display table.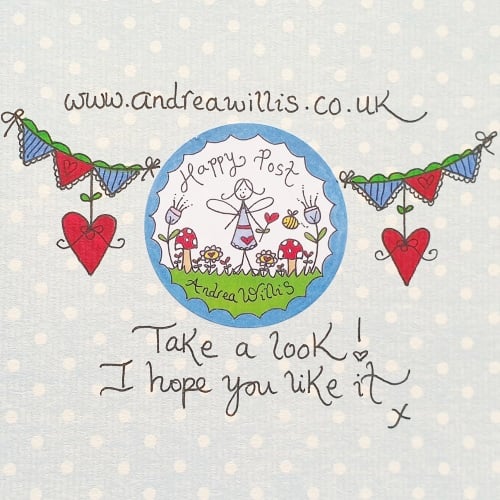 How customer behaviour changed …
The weeks of lockdown did give me mind-space to think, really think about my business. As featured in my first blog, the website started to take shape.
It had been a long time 'in the making' and with the lockdown being so strict, I realised that I had to put my website to the top of the list.
Customers can still order in several ways, including calling into the shop to discuss their bespoke requirements although Covid-19 has altered this significantly. Customers can also come in if they feel they are safe to do so (and only if I am permitted to open as per Government restrictions).
I did notice, like many other businesses, that orders for my products increased via my social media platforms such as Facebook and Instagram which already accounted for about a third of my overall order book.
This rose steeply to around 60%, which is a huge leap and all I can say it thank goodness for social media really! It certainly has its place in running a business, particularly when physical movement was so restricted.
Orders by Facebook messenger and Instagram also came from the local area, which was amazing, as it meant so many folks were keen to support a small business.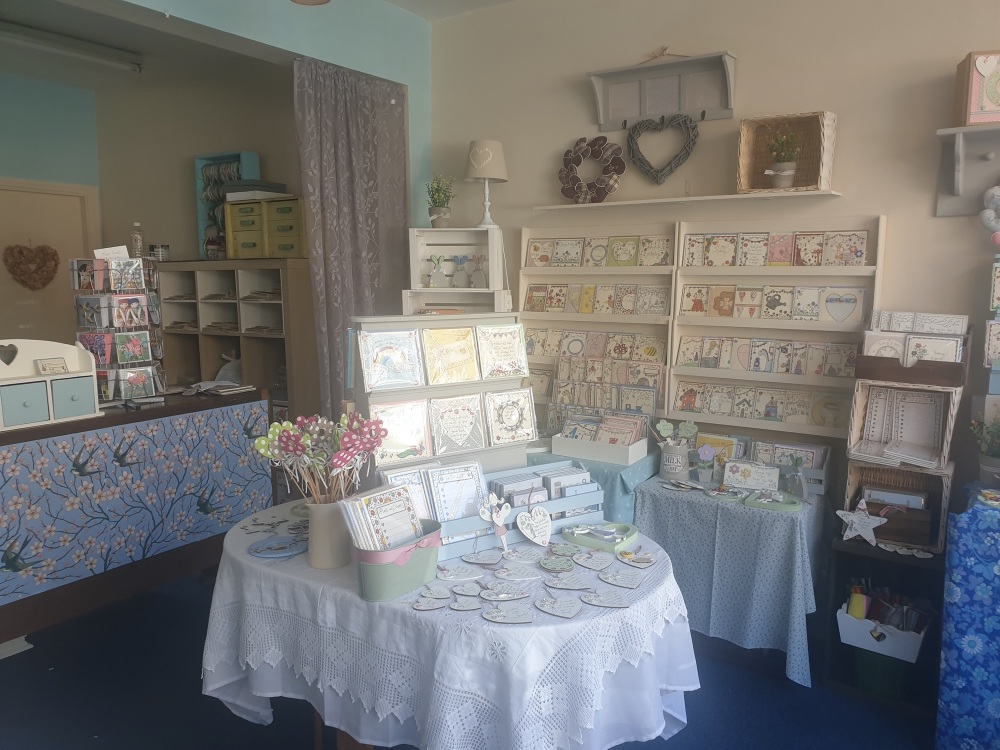 How my website works … and what about my shop?
The website is a great way to shop 'online' for a very comfy digital shopping experience. The website is simple to use, and orders can be posted out and I also offer the click and collect option. So, the website has truly added to the ways in which customers can browse my products, order them and also ensure they get great service from Andrea Willis Designs.
So, the big question is … will the website replace my shop?
To be honest, it's a question I have mulled over for some time.
However, I get the feeling that customers still like to come in and see the products I have available. There is also the immersive side of a creative business like mine: it is lovely to see the actual card, gift, notebook etc before your very eyes! While we are encouraged NOT to touch products at the moment due to Covid-19, nothing beats the physical texture of a card or a notebook or similar.
It makes me very proud and a bit emotional when customers say they come into the shop "For a few minutes happiness". Others have also mentioned that '"This shop makes me happy" which makes me feel so humble. And another customer said: "I can't wait for an occasion, so I need to come in and buy some cards." What greater praise is there than these lovely comments? So, for time being, my shop will remain open and I will welcome customers old and new. Having a digital presence, though, has never been more important than it is now so having the shop, the website and my social media platforms serves the needs of most if not all of my customers.
The personal note
Another element that customers love is when I can personalise a card for them. This was quite nerve-wracking at first … a bit like watching someone type and they hit all the wrong keys!
Yet I've got a bit more confident over the years and it is lovely when someone says: "If only I could write like that!"
I always reply by saying you can with practice! I am much quicker at writing out special messages than I was even a few years ago, so practice does make perfect.
And watching that ink spool out onto a special card is a very special experience, and if a customer wants to see it happen, this can only happen in the shop.
Ten years of trading
So I will keep my shop 'up and running' for the foreseeable future.
When I can re-open my shop to my customers, I will do so. Hopefully soon after 2nd December 2020 as instructions currently stand.
I do feel that the retail industry is having a difficult time as it is without another empty outlet close to the town centre.
There is another reason for keeping shop open.
I can't quite believe it but on 6th December 2020 it will be ten years since I first had an actual retail presence! The decade has flown by and I can't quite believe how time has passed.
That's a lot of pens, cards and buttons!
I can't even begin to calculate how many cards have been sent out for special occasions; gifts ordered and created; and how many pens, buttons and bottle of glitter I've used!
I couldn't do it though without my customers, who are all part of the Andrea Willis Design process. Without YOU I simply wouldn't have a business, so thank you all.
And anyway, all that hard work painting the inside and the outside can't go to waste … here's to ten years of trading come December.
Until next time ...