Ten Years of Andrea Willis Designs
Posted on
Yes, it's hard to believe, but on 6th December 2010, I opened my very first shop.
A shop around the corner from the amazing Stephen Joseph Theatre … no toilet … no running water … just four walls, a small shop window and a door!
This first tentative step into the world of retail was also in Hanover Road, more or less opposite to where my shop is currently located.
So, what happened during the decade of designing here in Scarborough?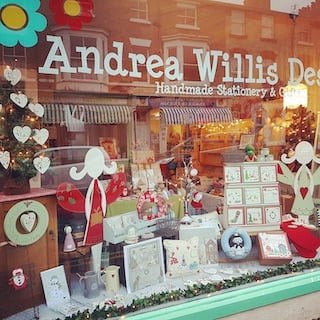 Dark Days
I often find myself asking, when I have a few spare seconds, why DID I take that first step … why did I take the plunge and open my own shop, albeit a small one, back in early December 2010?
The main reason was to find a local yet effective showcase for my designs.
It was hard … very hard.
The first two years were the most challenging … and I won't lie, there were days when I wanted to give up.
At the time, my children were still at school and I certainly could not have done it without the support and help of my husband.
It was a gamble, yet it started to slowly pay off.
I began to get a small following of customers.
And the kids helped too! Back in 2010, Gabby was young enough to fit under a table and play. Fast forward ten years and she is now sweet 16 and is Champion Button Sticker-On-er and also helps pack the orders!
Fin has always been quietly proud of his mum and the shop … we know what boys are like!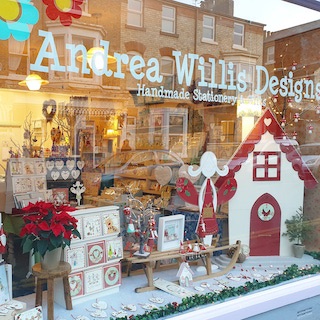 Six Months and Counting
From this small unit, my vision included a larger unit with more space, a bigger frontage and yes, a loo and running water, too!
Of course, larger premises mean bigger overheads … so there were some sleepless nights … in fact, there still are if it's a busy time of year.
The sleepless nights were worth it though.
Gradually word spread.
Social media came along and offered free ways to 'get the word out'.And the main attraction was the large shop window.
'Shop Windowing'
Many folks love to window shop, myself included!
Often, window shopping provides ideas, some dwell time that is both relaxing and informative and a good window display also becomes an attraction within itself.
Most of you will know how much I love to dress the window!
My favourite times of year are Easter and Christmas.
Both these celebrations are important in a number of ways: families try to get together; it can be time of forgiveness and understanding; and both festivals offer a chance to show your appreciation for friends and family by way of a keepsake, a card or a gift.
Now, I understand that many of you feel that both Easter, Christmas and other annual events (Halloween, for example) are very commercial. And they are!
However, it doesn't mean spending ridiculous sums of money on gift that no-one needs.
A simple, heart-felt card, a thoughtful keepsake or memento, handmade and locally bought means that person feels loved and also it supports a number of local businesses, too.
So, Easter is a favourite time of year when my window dressing skills go into overdrive.
Fresh flowers ? Tick!
Springtime cuteness? Tick!
A chance to celebrate this special time of year. Tick!
Christmas, while it can start way too early, is a time when I go 'the whole hog' and buy a special prop to build up my collection.
One that stands out is my nearly life-size version of the iconic Andrea Willis fairy! And what about the huge 3D fairy cottage? I could have sold it a hundred times over!
I hope that children and adults find these immersive window displays fun and evocative and something to look forward to when the time comes.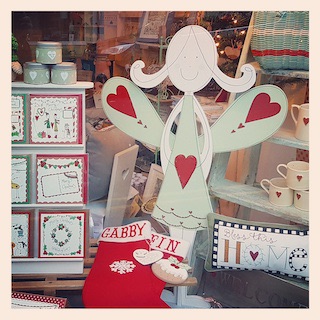 A Decade in Designs
From the beginning of the Andrea Willis Design retail emporium, a key element has been the constant creative design process.
While my first ten years of owning a shop has had its positive times and its challenging moments, one aspect that has kept me going is the chance to create new designs.
After the hecticness that is Christmas and following a huge Christmas lunch and some quality time with family, soon after, out come a set of new pens, a brand-new pad of paper … and some thinking time.
Like being back as school, I put my thinking cap on and begin to sketch out 12 new designs, maybe a new member of the fairy family, a new range, a new set of products … the New Year gives me chance to think up new designs ready for the year ahead.
This design time is perhaps the most important part of the year. Without it, my business would stagnate and just wouldn't progress.
And I ensure my customers know of the new designs so they can see the brand-new ideas that have popped into my head.
These new products show there are new things to see, to enjoy and to share with friends and family.
It can be quite nerve wracking and although I've never had designer's block, I sometimes feel a bit of wobble with my design capabilities … I guess I'm only human.
Yet my lovely customers are truly amazing!

My new works are well-received and show that my inspiration is still sparkling.
Christmas is always a key time for design work to flourish … and over ten years, I've got a portfolio of over 60 Christmas card designs AND I've already designed a collection of 12 new festive cards for 2021 …
It would be nice to have more design time … who knows what the next decade will bring?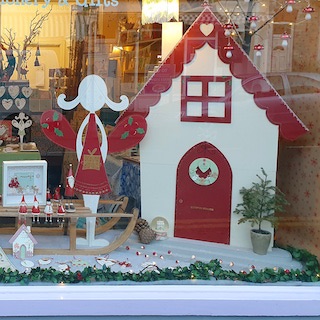 Importance of Customers
It has been said that customers who enter the shop leave as friends … and this is true! I've met so many amazing folks along the way, many of whom have shared my ten-year journey so far.
The card and gift business means you are often involved in life's many ups and some downs … births, christenings, weddings, birthdays, anniversaries … it also means you can see the sadder times which inevitably happen on occasion.
All my customers are welcome any time into the shop and many of them will have seen my business evolve and develop from humble beginnings.
2021 … A New Beginning
I think it is safe to say that most of us want to see the back of 2020.
Few of us will have experienced a year like the one we've just had.
Yet 2021 will arrive, and with it a whole year of key moments, celebrations and events.
Valentine's Day, Mother's Day, Easter … and the rest of the year will follow.
One positive element that has come out of 2020 is that many people have rediscovered the joy of giving a card … and not just any card.
Receiving a card (and yes, it would be nice for it to be one designed by and purchased at Andrea Willis Designs!) means someone has gone to the trouble of choosing, purchasing, and handwriting a personal message in that card before popping it into the post … there is something truly wonderful about receiving this type of mail.
I for one and, for obvious reasons, hope this continues yet it isn't simply for the benefit of my business … it is also because I would like to think we're all a bit more considerate, can be a bit kinder to one another and maybe a bit more thoughtful when it comes to buying a gift. It takes a bit of time and effort to shop around, either in person or online, yet it can mean so much to the other person.
Also, it means you can support a local business that is within your community … this means such a lot to me and to many other local concerns.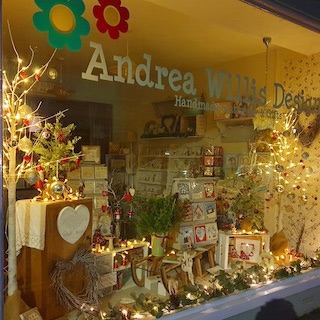 So, I wonder what the next ten years will bring?
We are entering a brave new world, and we hope it's a post pandemic one.
All that remains for me to say is I wish all my customer a safe and very happy Christmas and a peaceful, tranquil New Year.
Until next time …