New Designs, Inspired By The Sea
Posted on
I'm not going to start this, my first blog of 2021, with a reference to Lockdown 3.0 … okay, so by default, I've just mentioned it!
Rather than 'drawing' too much attention to the restrictions, it's time to reveal some of my brand-new designs, new colour schemes and yes, my streamlined product range.
Welcome!
Here we are … the shop is open … my website is available 24-7 and there's some nautical inspiration to follow …
While we've had a very cold spring, we've had some sunny days.
The 'L' word did give me time to go out for my daily exercise and rediscover the stunning scenery right here on my doorstep.
Now and again, I saw some of my fantastic customers for a quick 'hello' and it was nice to thank them for their continued support.
In fact, it's a huge thank you to EVERYONE for their support, both for the shop and for the website.
Daily Exercise
The first few months of 2021 allowed many of us take stock. It certainly showed me that my own time-management was something that I could improve. This was a chance to have family-time, to reconsider the work-life balance that we all struggle with.
So those outdoor walks, even though it meant wrapping up in several thermal layers, not only gave me chance to have some fresh air and exercise, but these walks also gave me a chance to enjoy those precious moments that we sometimes miss out on.
Working from Home
I was very, very fortunate in that I worked from home for the start of 2021. To be honest, it's something I've always done anyway. Once my shop closes each day, it is then a case of catching up on design work when I get home, as well as making time for family life.
Yet working from home all the time was in some respects quite an isolating experience. This of course was the point of it in terms of keeping everyone safe; but it did make me realise that I really, really missed the shop.
I missed the interaction, seeing friendly faces (even if they were behind a mask) and hearing a selection of different human voices.
I am guessing that a lot of my customers felt the same way. As well as seeing another 'real world' human being, re-opening the shop back in April meant a person could browse, take time to think about the gift or card they want to buy and even watch their card being personalised for that special occasion.
And I'm so lucky to have my business in Scarborough, along the beautiful Yorkshire Coast.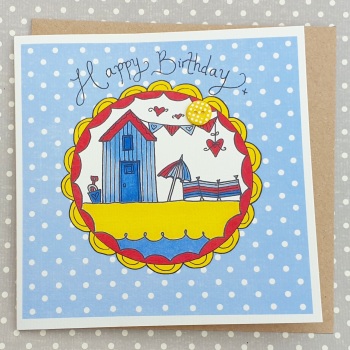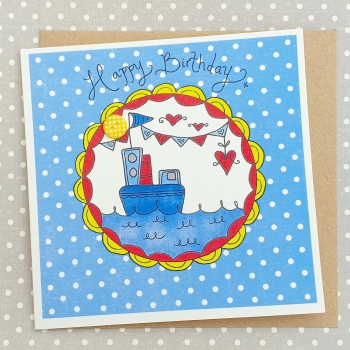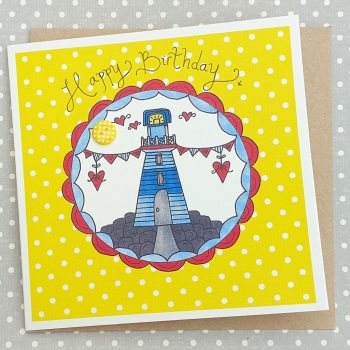 Beside the Seaside
Living by the coast, there is always a danger of taking it for granted.
Yet Scarborough has provided me with some maritime magic for my brand-new seaside-themed range of cards.
These include a beach chalet, boat and lighthouse … no prizes for guessing how these colourful designs came about!
I've used some bright seaside colours including yellows and blues, perfect for giving the recipient a pop of colour for their special day.
Of course, my fairy and the usual scarlet toadstools are also appearing regularly in my new designs … my fairy is one of my oldest friends and yet she never seems to age!
Designing Continues
Of course, once I completed the seaside designs, my brain never really stops, and I've already got some designs for later in the year in the pipeline.
My 2022 calendar is now designed and is ready to print so if you're looking forward already to another new year, these will be on sale soon.
And this leads nicely onto … dare I say it … Christmas! Really, I hear you ask?
Yes, the festive time of year was a very damp squib last year.
This year, while my Christmas designs are usually sorted around this time, I plan to make Christmas 2021 a very special one for everyone with new stock, cards and gifts.
Sticky Times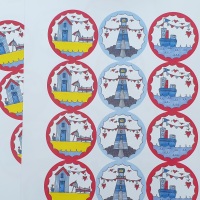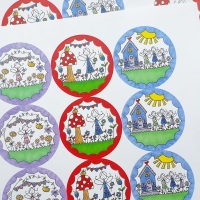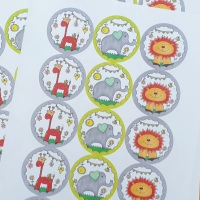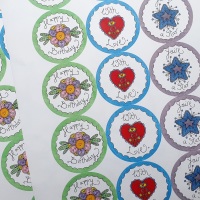 As we're all big kids at heart, it is also hard to resist a colourful sticker, no matter what your age!
My round stickers are all designed by me and can really add that special touch to a card or gift. You can stick them on the back of the envelope once the card's inside, or you can attach one to a gift wrapped present.
Or, if you are one of these people that loves to write letter, in a journal or even send a postcard, these stickers make them even more fun and colourful.
My sticker range include the nautical designs, fairy and toadstool designs, love hearts, flowers and star design and the ever-popular giraffe, elephant and lion. There are even some friendly dinosaurs, too!
The stickers come in sheets of 15 stickers featuring three different designs.
It was so much fun designing the sticker range and they can be a thoughtful finish touch to a card or gift.
Pretty Patterns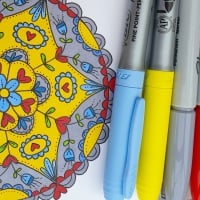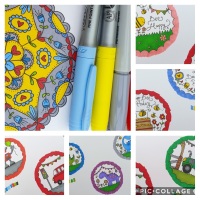 The designs I create are often based on a theme, such as Christmas, Easter, Mother's Day or Father's Day for example.
Sometimes, though, I let my imagination run free.
This is when I come up with my own, unique designs that are detailed, symmetrical and colourful.
My daily walks made me realise how blue the sky is when the sun shines; how bright the sun can be; and even on a cloudy day, the silvers and the greys can be inspiring.
So, while I love to add a splash of red to my designs, I've resisted using too much of it and gone for yellow, blue and grey as the colour palette and if I'm being honest, I am very proud of the results!
Streamlining the Stock
As many of us have become cost conscious over the last year, this made me look very closely at the stock I carried in the shop.
After being honest with myself, I realised I had too many products.
There is a saying … you can have too much of a good thing and that's very true.
I decided that less is more, particularly as the website gained traction and it became clear what products became 'best sellers'.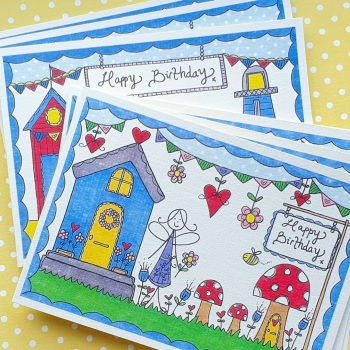 I've streamlined my products and although there is still a large range of occasions and designs to choose from, my stock range now includes cards, notebooks, wedding gifts, baby gifts and keepsakes.
Don't forget these can all be personalised for free, making that message even more memorable.
One of the main outcomes of my website has been the popularity of the greeting card packs.
I will be increasing these as so many of you loved them.
It's lovely to know something becomes popular and this gives me the drive and inspiration to make more of them.
The Online Store
The website has been live now since October 2020.
It did take of a lot of work and my caffeine consumption went up while creating it!
Yet the work that went into it has been so worthwhile.
Also, it couldn't have been better timed as we all know that shops and businesses had to close temporarily not once but twice since the website's launch.
So many of you have loved the website and I really appreciate how much this has meant to you.
It means that a special occasion could still be marked by the sending of a card or gift via the post.
This does remind me to thank our posties … I know the Royal Mail has been overwhelmed with the amount of people using their services by ordering online. And our posties delivered items through all the Lockdowns, the bad weather, and I sometimes think we take this for granted.
I for one know would like to say a thank you to all our post people for their hard work.
Roll on Summer
The spring has been a mixed bag in terms of weather. Yet we've got the summer to look forward to!
Father's Day isn't too far away (20th June) and then the day after that is usually the summer solstice and could be the date when most remaining Covid-19 restrictions are lifted.
This means I've bookended my blog quite neatly and while I didn't intend to mention the pandemic, of course it's impossible to not mention it.
The effects of the last year or so will be felt for some time to come and while our economy will recover in due course, it's made us all appreciate the simple things in life. Seeing friends. Enjoying a meal out somewhere. Hugging our family.
I would like to think the cards that I've designed, and that have been ordered and delivered to people, have been a kind of thoughtful, socially distanced hug in an envelope.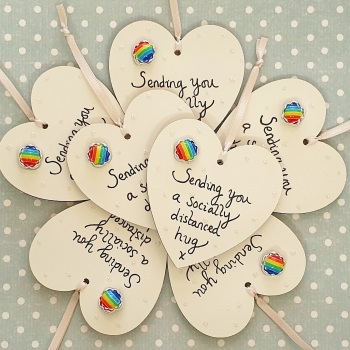 In fact, one of the most popular keepsakes in the last year was my 'Sending you a socially distanced hug' wooden heart with a special rainbow button. These sold like hot cakes and it was so lovely to know these were being sent out in place of true love and bear hugs, until these simple gestures can again become the norm.
We're all looking forward to warmer days, sunny weather and of course, seeing the ones we love again for a much-needed hug.

Until next time …